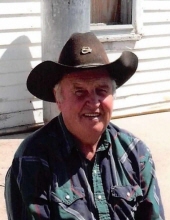 Obituary for Dwain W. Tol
Dwain Tol, age 82, of Clear Lake, SD, passed away on October 1, 2019 after a courageous battle with bladder cancer. There will be a Celebration of Dwain's life from 12:00 p.m. to 5:00 p.m. on Saturday October 12, 2019 at the Event Center at Lancer Lanes & Event Center in Canby, MN as requested by Dwain. All Friends and Family welcomed.

Dwain Windal Tol was born July 2, 1937 to Charlie Tol and Palma (Gilbertson) Tol in Brandt, South Dakota. He was baptized in Lutheran Faith at Highland Lutheran Church on December 26, 1937. He was confirmed on September 16, 1951. Dwain graduated May 11, 1956 from Brandt High School.

He married Alice Dahl daughter of Charles Dahl and Bertha (Barkve) Dahl on July 13, 1957 at Bethel Lutheran Church in Astoria. Seven sons were born to this union: David, Alan, Wayne, Michael, Mark, James and Paul.

Dwain was loved by all that knew him. His laugh was one that anyone who heard it knew who it was! He loved farming, playing his guitar, riding horse, threshing bee's, being in parades with his Oxen named Red and Dove and a team of Belgium's named Beauty and Babe and most of all spending time with his family and friends enjoying life.

He is survived by his wife, Alice Tol; sons: David, Brandt, SD, Alan and Sandy, Brandt, SD, Amber Gauger Tol (Wayne Tol's widow), Michael and Melinda, Clearlake, SD, Mark and Jan, Roanoke, IL, James and Amy, Fairmont, NE and Paul and Janel, Canby, MN; grandchildren: Jessica White, Lee Tol, Danielle Foster, Shawn Tol, Joshua Tol, Jacob Tol, Scott Ahlers, Magen Tol, Michael Tol, Morgen Tol, Madisen Tol, Justin Tol, Jordan Tol, Emilie Gehrke and Stephanie Tol; nine great- grandchildren; sister, Joyce Gorder, Estelline, SD; and sisters-in-law: Clarice Dahl, Astoria, SD and Lana Dahl, Volga, SD.

He is preceded in death by his parents, Charlie and Palma Tol; in-laws, Charles and Bertha Dahl; his beloved son, Wayne Tol; sister, Adeline Hardy; sister-in-law, Marlas Dahl Grimle; brothers-in-law: Merlin Dahl, Forest Hardy, Charles Jr. Dahl and Richard Gorder; and many nephews, aunts, and uncles.
Previous Events
Service
Lancer Lanes & Event Center
211 1st St W
Canby, MN 56220