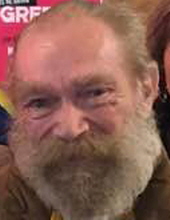 Obituary for James "Jimmy" David Cole
James (Jimmy) David Cole, age 72, passed away on July 31st, 2019 at the Deuel County Good Samaritan Society in Clear Lake, SD. A Celebration of Life will be held on Saturday, August 10, 2019 at the Gary Bar. A tribute and toast to Jimmy will be held at 7:00 p.m. with food to follow. Anyone wanting to share pictures, memories or stories of Jim are welcome to bring them in to the bar at any time or share them during his service. The Houseman Funeral Home is entrusted with the arrangements.

Jim was born on December 10,1946 and was adopted as an infant into the loving home of Ruth and James (Jyp) Cole. Jim had a very interesting life. He was always a good friend to everyone and very popular. In high school, he played trumpet in the school band and participated in declam where he got many superior ratings in the humorous division. He graduated from Gary High School in 1964. He always loved the outdoors and had a great knowledge of animals and plants. He also owned many animals. At one time, he had a small farm with goats and chickens roaming around.

He was very gifted in taxidermy, a trade which he learned from an old taxidermist in Gary, Harvey Schulte. Jim worked many hours for him perfecting his skills. He had a very good business mounting many kinds of animals and fish. When he participated in trade shows, his mounted animals sold out right away. His friends and business partners, Gene and Bess Smith, would fly him out to California to mount exotic birds. For over 30 years, he continued to learn from and work with his mentor, Gene, and between the two of them, they mounted thousands of birds during that time. Jim was very happy living in Gary and was always surrounded by his friends.

He is survived by his niece, Kristine (Patrick) Stokes; nephew, David Nelson; and many cousins.

He was preceded in death by his mother and father, Ruth (Hanson) and James (Jyp) Cole; and his sister Joan Wilcox. He will be greatly missed by his friends and relatives.