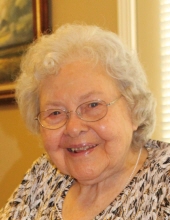 Obituary for Mabel Vanderbush
Mabel Vanderbush, age 96, formerly of Clear Lake, SD passed away on Saturday, October 19, 2019 at the Earlene Howard Hospice Home in Springdale, Arkansas. Funeral service will be 10:30AM on Friday, October 25th at St. Paul's Lutheran Church in Clear Lake. Visitation will be held one hour prior to the service at the church. Burial will be at Lakeview Cemetery in Clear Lake. Houseman Funeral Home is entrusted with the arrangements.

Mabel Julia Vanderbush was born on a homestead in northern Alberta, Canada near Bawlf, on July 13, 1923 to Charles and Ida Gustavson. When she was six years old her father Charles passed away. With her mother and two younger sisters she moved back to the Hidewood Valley in South Dakota to be closer to family. She lived with her grandparents Mons and Julia Selland and various other family members attending a country school. As a little girl growing up in the Great Depression, she loved rollicking in the Hidewood, picking wildflowers and playing along the creek on the Oxbow farm. She graduated from high school in Clear Lake. She earned a degree in secretarial work the Watertown Business College. After graduating she worked for Walter Gronna a prominent local attorney. Mabel was a home maker and assisted her husband with the bookkeeping at his Dental practice and helped with the books at their distributing business in Sioux Falls until they both retired.

In 1945, she was married to her beloved husband, Dr. Laurence Vanderbush and lived in Clear Lake until 1976 where they raised two sons, Lee and Ross. They moved to Sioux Falls for seven years and then moved to Hot Springs Village, AR. After Laurence died, she has lived in Benton, AR and most recently in Fayetteville, AR in assisted living.

Mabel enjoyed art, both as a participant and an admirer. She did a lot of travelling and spent many vacations in Hawaii, Norway, Sweden and attended several educational hostels throughout the US and Canada. Mabel was confirmed in the Lutheran Church in Brandt as a teenager. She was a long-time member of St. Paul's Lutheran Church and joined
congregations in each community she lived including Hot Springs Village, AR; Benton, AR and Fayetteville, AR. She especially loved to volunteer at the Prince of Peace Lutheran, a small congregation in Waikiki, Hawaii. Mabel passed away on October 19, 2019 at the Circle of Life Hospice in Springdale, AR at the age of 96 years, 3 months and 6 days.

Survivors include her sons, Lee (Irene) of Rapid City, SD and Ross (Patrica) of Springdale, AR; five grandchildren; eight great-grandchildren; one sister, Charlotte Weidensee of Rapid City, SD; and numerous nieces and nephews.

She was preceded in death by her husband, Laurence; her parents, Charles and Ida Gustavson; stepfather, Herb Renaas; stepbrother, Merlyn Renaas; sister, Eva Jacobson; five brothers-in-law and three sisters-in-law.
Previous Events
Visitation
St. Paul's Lutheran Church
711 6th Avenue South
Clear Lake, SD 57226
Service
St. Paul's Lutheran Church
711 6th Avenue South
Clear Lake, SD 57226
Cemetery Details
Location
Lakeview Cemetery
Clear Lake, SD 57226