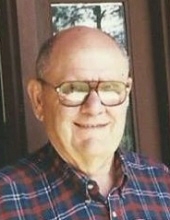 Obituary for Wayne Edmund Harford
On July 2, 2019, Wayne Harford went to Heaven and waited for the love of his life. On August 16, 2019, Bonnie joined him, and they are now united in Heaven.

A Celebration of Life for Bonnie and Pork will be September 3, 2019, at 10:30 a.m. at the Trinity United Methodist Church in Lead, followed by fellowship in the Christian Ministry Center. Inurnment will be at the Black Hills National Cemetery, Sturgis, SD at 2 p.m. Memorials may be made to the Trinity United Methodist Church, Lead, SD. Funeral arrangements have been handled by Houseman Funeral Home, Clear Lake SD.

Wayne, or Pork (honest, it was his nickname), was born December 5, 1930, in Redfield, SD to Edmund and Opal (Miller) Harford. After graduating from high school, he joined the Army National Guard and was ready to begin a career at Homestake. However, his guard unit was activated and he and Bonnie went to Colorado Springs where he began basic training. He received his orders and was stationed in Alaska. During this time, Bonnie stayed with her sister in Sioux Falls, SD where their daughter Rebecca was born. When the Korean Conflict ended, Pork collected his family and began his career in Homestake. He worked as a hoist operator for over 41 years. He also served the city of Lead as a reserve policeman and was the volunteer Fire Chief for 7 years. He was an active member of the American Legion Post 31 and a much appreciated blood donor! He loved hunting, fishing, crossword puzzles and a good cup of coffee. When the family moved to from Lead to their home on the Nemo Road, he spent a lot of time sitting on the deck and watching the bluebirds, plus all the wildlife that even included the motorcycles during the Rally!

Bonnie was born in Redfield, SD on October 15, 1931, to Carl and Ella (Rehnke) Hilkemeier. She graduated high school with Pork and when he came home from the war, he took his "farm girl" to Lead where she began her career as a mom and homemaker. Russell, Steven, and Christine were born in Deadwood and completed the family. Bonnie taught Sunday School, played the piano, sewed beautiful dresses, and both Grandma and Grandpa spoiled their grandchildren, great grandchildren and grand animals rotten! She loved sweet corn, music, the camaraderie of the Nemo Sewing Club and walking their big black lab Bo through the woods on a leash to keep him out of the porcupines! They flew through those woods! Anyone who was fortunate enough to have a meal with them knew they were both good cooks! Despite how hard we try, we still can't quite duplicate Dad's potato salad, Mom's pastries, nor their fried chicken!

Bonnie and Pork are survived by their children Becky of Rapid City, SD; Russ, Chadron, NE and wife Colleen, Spearfish, SD; Steve, Clear Lake, SD; Chris and James Finney, Baton Rouge, LA and Bonnie's sister, Shirley Beier, Vancouver, WA. They have 8 grandchildren and 6 great grandchildren---the apples of their eyes---and many nieces and nephews.

The family would like to thank the staff and caregivers of Deuel County Good Samaritan Society, Clear Lake and all the other staff and caregivers Bonnie and Pork had when they were in their various homes in the Black Hills. Words cannot express how much that kind care meant.
Previous Events
Service
Trinity United Methodist Church
111 S Main
Lead, SD 57754
Cemetery Details
Location
Black Hills National Cemetery
20901 Pleasant Valley Drive
Sturgis, SD 57785