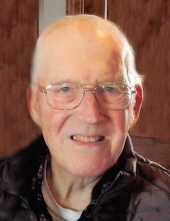 Obituary for Russel M. Gantvoort
Russel Gantvoort, age 93, of Watertown, SD formerly of Clear Lake, SD passed away Sunday, March 3, 2019 in the Prairie Lakes Hospital in Watertown. Funeral service will be 2 p.m. Tuesday, March 12, 2019 in the First Congregational Church in Clear Lake, SD with Pastor Jim Uthe officiating. Burial will be in the Lakeview Cemetery, Clear Lake. Visitation will be Monday, March 11th from 5-7 p.m. in the Houseman Funeral Home in Clear Lake, SD and will resume Tuesday one hour prior to the service at the church.

Russel attended the Mayflower District 24 grade school through the 8th grade. He farmed with his dad until March 1945 when he was drafted into the US Army to serve during World II. He was stationed in Japan, Asiatic Pacific Services, Army of Occupation. He worked with heavy weapons, was in the Military Police, and received the Victory Medal. He walked the grounds where the atomic bombs were dropped in Hiroshima and Nagasaki. All three of his sons also proudly served their country.

He was baptized in the Congregational Church of Clear Lake and was a life-long member. He served on both local church and state boards.

In 1948, he acquired the farm from his father. Russel met his future wife Norma Hanson at the Gambles store in Clear Lake where she was employed. On March 14, 1948 Russel married Norma at her parents' home officiated by Rev. Lois Joy Hurtung. Similar to this winter, in 1948 there was plenty of wind and snow. All hands were needed to shovel out the road and driveway for the ceremony. They made their home 3 miles west of Clear Lake on the Rock Springs farm previously purchased in 1904 by Garret Gantvoort. They were blessed with three children, Larry, Douglas, and Randall. Russel lived on the same farm all of his life.

Russel was a life-long servant of the First Congregational Church of Clear Lake in which his father was a charter member. He attended the Watertown Congregational Church and was active with the Gary 8's Square Dance Club, Golden Age Service Club, Sons of Norway (Brookings), American Legion Post 49, VFW Post 750, SD Farmers Union, and the SD Crop Improvement Assn. In 2018 Russel was recognized by the American Legion for 73 consecutive membership years. He raised foundation and certified grains being awarded Certified Seed Grower in 1987.

In 1956, Russel was first to bring Charolais cattle into SD from the Howard Martindale Ranch in TX. He helped form the Upper Midwest Charolais Assn, the South Dakota Charolais Assn, and contributed to the American International Charolais Assn. This percevied long-shot hobby changed the cattle breed climate of our state. He loved and knew the history and pedigree of each animal, was involved as a planner and participant to promote Charolais cattle at many fairs, farm shows, and sales across the state of SD and surrounding states. Russel, Norma and their 3 sons operated under the name of Ponderosa Charolais and had annual production sales on their farm.

In 1997, he retired from the farm and moved to Watertown with Norma. He collected toy tractors and trains and loved his children, grandchildren, and great-grandchildren very much.

He is survived by his sons Douglas (DeJae) Gantvoort, Clear Lake and Randall (Marsha) Gantvoort Bennington, KS, grandchildren and great grandchildren.

Russel was preceded in death by his wife Norma; parents, Garret and Olina, of Clear Lake SD; his brother, George Gantvoort, Clear Lake, SD; sister, Pearl Russell, Los Angeles, CA; and son, Larry Gantvoort Lebanon, MO.

Memorials are suggested to the Clear Lake Congregational Church in care of the Houseman Funeral home in Clear Lake.
Previous Events
Visitation
Houseman Funeral Home - Clear Lake
505 3rd Street West
PO Box 188
Clear Lake, SD 57226
Service
First Congregational Church
307 5th St W
Clear Lake, SD 57226
Visitation will resume Tuesday one hour prior to the service at the church.
Cemetery Details
Location
Lakeview Cemetery
Clear Lake, SD 57226
Memorial Contribution
Congregational Church
307 5th Street West
Clear Lake, SD 57226