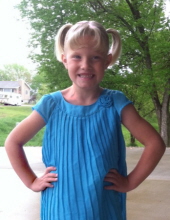 Obituary for Presley Paige Nielsen
Presley Paige Nielsen, age 5, of Hartford, SD passed away Saturday, July 18, 2015. Mass of Christian Burial will be 10:30 a.m. Thursday, July 23, 2015 at St. Mary's Catholic Church, Clear Lake, SD. Burial will be in the Blom Prairie Cemetery, rural Toronto, SD. Visitation will be Wednesday, July 22nd from 4:00 p.m. – 7:30 p.m. with a 7:30 p.m. Prayer Service at the St. George Catholic Church, Hartford, SD and will resume Thursday one hour prior to the service at St. Mary's Catholic Church in Clear Lake. The Houseman Funeral Home in Clear Lake, SD is entrusted with the arrangements.

Presley Paige Nielsen was born to Clayton and Pamela Nielsen April 25, 2010 in Sioux Falls, SD.
Presley lived in Hartford, SD with her family, parents Clay and Pam Nielsen; two brothers and one sister, Peyton, Eliot, Sarah Beth Nielsen. She attended school at West Central Elementary.
Sweet Presley was bright, happy and always infecting others with her laughter. Her blue eyes were enough to put the ocean to shame. She had blonde hair that was brighter than the sunlight with that ever present cowlick in the front of her bangs. How much joy there was in this little girl! Presley loved spending time with her family and doing a few activities such as riding the golf cart at Grandma and Grandpa Rhodys, dressing up in Grandma Nielsen's shoes and being Sarah Beth's side kick. Although she was the baby of the family, her stubborn, independent and persistent attitude pushed her to take charge in many situations. You'd often feel her pinching or spanking to get your attention. Her dad called her his little copilot. Some other names she got along the way were, "Pearl", "Pepper", "Fluffer" and of course, "Pres".

Presley had so many favorite things, especially babies. She was such a young little mother – always asking if she can hold baby Carter or baby Piper. Whenever a baby was around, that's where you'd find Presley. She loved dressing up like a princess, playing house, painting her nails or doing her hair… all while singing or dancing. She was always on the run. We remember her boldly coming in the house, slamming the door and heading off to do something with her brothers and sister, cousins or friends! Her recent success story was riding her bike without training wheels, she was so proud to tell everyone.

This world is left as a brighter place with so many blessed by Presley. Her smile was enough to cure any sadness, her personality was laced with care for everyone which she gets from her mom, Pam. Presley lived a full life in a short number of years. We will always remember her caring personality and sense of humor.

Presley is survived by her parents Clay and Pam Nielsen; siblings: Peyton (13), Eliot (9), and Sarah Beth (7); aunts and uncles, Tony & Danay Nielsen, Derick & Erin Nielsen, Adam & Kellie Rhody, Dustin & Nikkee Rhody, Nick Rhody, Austen & Becky (Rhody) Hanten; Cousins, Graclyn & Griffin Nielsen, Gabe Van Dyke & Carter Nielsen, Kacee & Jason Rhody, Austin Sutherland, Evan & Piper Rhody; grandparents Don & Nadine Nielsen, Danny & Sandy Rhody; Great grandparents Norris Bergjord, Barbara Rhody, Dennis & Mavis Stoltenberg;
Greeting her in heaven are great grandpa Arlen Rhody, great grandma Nancy Bergjord, great grandparents Ingvald & Janet Nielsen, special teacher, Mr. Murphy, and her unborn siblings.
Previous Events
Visitation
St. George Catholic Church
408 S Western Ave
Hartford, SD 57033
A Prayer Service will be held Wednesday at 7:30 pm
Service
St. Mary's Catholic Church
408 3rd Street W
Clear Lake, SD 57226
Visitation will resume Thursday one hour prior to the service at the church
Cemetery Details
Location
Blom Prairie Cemetery
47504 SD Hwy 28
Toronto, SD 57268